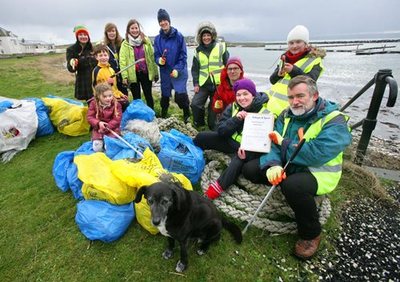 Adopt a Spot is a scheme that formally enables volunteer groups across Northern Ireland to adopt an area and look after it. You can choose any area you like. It could be a mile of beach that always seems to be full of litter, an area covered in graffiti, an urban park or your local forest or even the street you live on….anywhere is possible! If you think there is an area that could do with a bit of TLC, why not adopt it?
Adopters can be anyone, from families, community or youth groups, schools, businesses and sporting associations. Volunteering is a great way to get out and about and give you a feel good factor while simultaneously making a difference in your community. With Adopt A Spot you will hold four clean ups a year at a time of your choosing. Live Here Love Here will provide groups with an adoption pack containing all the equipment you need, including a hints and tips booklet on how to run a successful clean up.
If you are interested in instilling a pride of place in your community and busting that grot, or simply would like more information, please contact Ciara Laverty at Keep Northern Ireland Beautiful on 028 9073 6920 or email: ciara.laverty@keepnorthernirelandbeautiful.org.
To register for Adopt A Spot, create a profile via this link. Once you have created a profile simply click the 'Adopt A Spot Applications' tab on your profile page to begin your application.