Fundraise for Live Here Love Here—there are lots of ways you can support us to make changes in our communities for a greener future.
Encourage your business to take part in a corporate team day, sponsor one of our programmes or make a donation.
Your support can help us continue to work with amazing volunteers who strive to make a difference in their area!
Ways to support us
Show your support
You can also show your support by signing our list of people who want to see change in their area. Join the many people just like you, who care about the environment they live in. Show your support to say that you want play your part in helping to keep Northern Ireland a clean and beautiful place to live. It's easy - One little click, one big difference!
Fundraise for Live Here Love Here
Without the support we receive from our volunteers we could not continue the work we do. There are a lot of ways to get involved and there's something to suit everyone, whether young or old, an individual or a group.
Current Opportunities
There are currently no opportunities available.
Park Runs
Park runs are a great way to raise money for a cause you care about. There are lots of events taking place across Northern Ireland every week. For more information visit http://www.parkrun.com.
Running not your thing? Then we want to hear from you!
There are plenty of other ways to fundraise for us- from zip lines to quizzes, treasure hunts to local fetes, there's something for everyone. We've even seen a 24 hour litter pick!
We are here to help with advice, ideas and support. Let us know what your plans are and how we can help you – drop us an email at enquiries@liveherelovehere.org or give us a call at 028 9073 6920.
Get your work colleagues involved, round up your friends and family and involve the groups and clubs you are all part of. It's all for a great cause!
Corporate Team Days
Be part of something special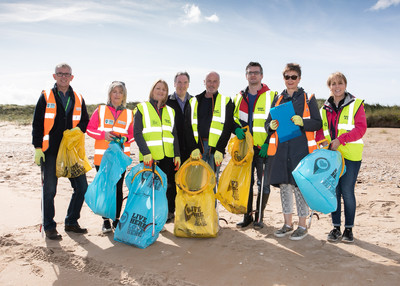 Be part of a movement to inspire and empower people to transform where they live, learn, work and play.
Spend a day volunteering with us to make a real and visible difference to the environment and have fun team building at the same time!
Keep Northern Ireland Beautiful can tailor a corporate volunteer clean-up event to your requirements so that your team can be part of one of Northern Ireland's fastest growing civic movements to rid our streets, parks, beaches and rivers of litter. Be the change you want to see in the places you care about - be that on your company doorstep or places that you love to spend your time.
To find out more download our corporate volunteering brochure.
Download our corporate volunteering brochure
Support us while you shop

We live in a time of over consumption. We all need to use less, borrow more, and be happy with what we have. But we have to do it in steps we can manage. We would always promote use what we have, reuse what others don't want, buy better and buy local. There are times when this is not always possible and for whatever reason you need to buy from further afield.
Keep Northern Ireland Beautiful has signed up to Amazon Smile. This means that if you make a purchase using the tab below every purchase you make will donate 0.5% of the purchase price to Keep Northern Ireland Beautiful.
In order to donate you need to buy through the Amazon Smile site but you can switch to it before paying if you have gone in through the normal amazon site. You can add it to you toolbar to help remind you.
When ordering from Amazon please look at the frustration free packaging option – which will ship you your products without additional packaging, designed to reduce waste in 100% recyclable packaging. Also at checkout choose the option of least number of parcels so items are sent as one rather than lots of separate packages.
Every little bit helps us to do more so please share our link widely and use it sparingly when needed.
Thank you!