Please note the Rural Community Pollinator Grants are CLOSED for applications.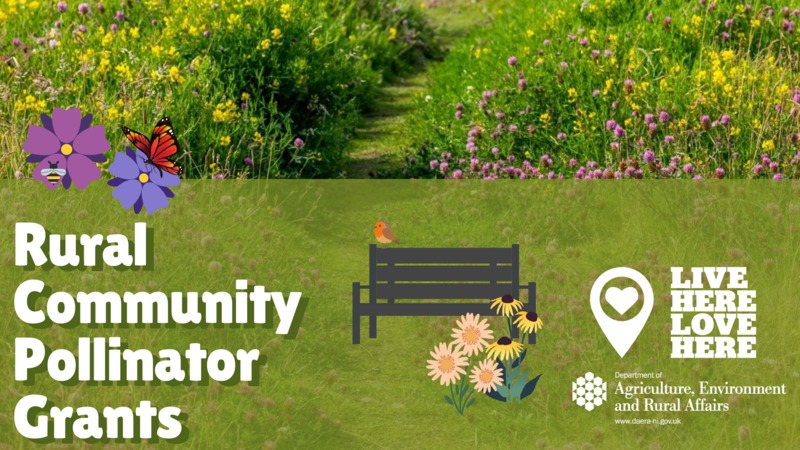 The Live Here Love Here Rural Community Pollinator Grants were wholly provided by the Department of Agriculture, Environment and Rural Affairs. They were distributed through the Live Here Love Here collaborative partnership, involving DAERA, ten Local Councils, Northern Ireland Housing Executive and Keep Northern Ireland Beautiful.
The Rural Community Pollinator Grants Scheme is a pilot Scheme which provide capital grants from £3,000 to £12,000 covering 95% of costs to community groups and schools wishing to establish, enhance or develop a local community pollinator garden.
The Rural Community Pollinator Grants support community groups and schools to:
Increase the biodiversity value of an area by planting for pollinators.
Transform unused spaces into valued community spaces, adding habitats and greening-up grey spaces.
Create a positive legacy within a rural community.
Improve the health and wellbeing of rural communities and aid biodiversity recovery by helping to improve and/or maintain the quality of community spaces.
Increase civic pride through a programme of community engagement.
Improve the quality of their local environment by changing behaviour to reduce the incidence of littering and dog fouling.
Applications closed at 12 noon on Monday 11th October 2021.
If you want to discuss your project, you can contact the Live Here Love Here team at the Pollinator Grants email address.
Project Advice
There are lots of steps we can make to create homes and food for all sorts of wildlife... for more information, download PDF:
Project Ideas
You probably already have some ideas about how you'd like to improve, develop or create a community area to help pollinators to thrive.
Just in case you need some inspiration, we've come up with some templates with made up scenarios which might help you decide what you'd like to do.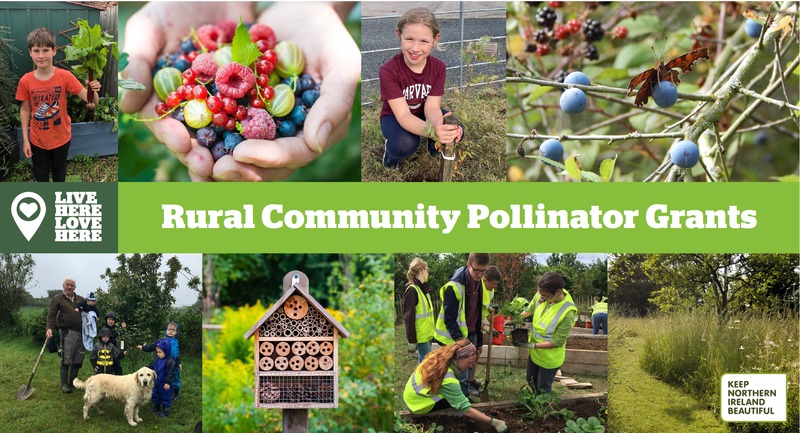 Suggested Suppliers
Bulk and bagged bark and topsoil suppliers
Also new railway sleepers (untreated), wood, fencing, etc.
Haldane Fisher (all branches)
Murdock Builders Merchants (various locations)
Wheatfield Decorative Stone, Scarva, Banbridge – bark delivered.
Antrim Bark, Templepatrick
The Soil Man NI
Natural World Products
Treescapes NI (also tree planting)
Tree/Hedge Planting Service
TCV NI
Tree NI
NI Farm Forestry
Woodgrange Tree Nursery, Downpatrick
Wildflower Seeds
True Harvest Seeds
Coburns, Banbridge
Design By Nature in Co.Laios
Contact us (wildflowers.ie)
Eco Seeds
Native Trees, Hedging and Fruit

Craigmore Trees, Craigavon
Papervale Trees, Newry
Beechwood Nurseries, Newtownards (do mail order)
Plantation Rd Nursery, Craigavon
Beechgrove Nursery
Future Forests (do mail order)
Heritage Fruit Tree Nursery, Leitrim (do mail order)
Polytunnel suppliers
J.F. McKenna, Armagh or www.horticultureireland.com
Colm Warren Polyhouses Ltd, Co.Meath or www.cwp.ie
Polytunnels NI – Coleraine
Polytunnels Direct - Ireland
Polytunnels Ireland - specifically Geodomes
First Tunnels
Premier Polytunnels
Garden Furniture manufacturers/suppliers
Men's Sheds
There will be a local Men's Shed near you. They can help build all kinds of things including garden furniture, raised beds, bug hotels, bird boxes, hedgehog houses, etc. They might even be good at planting trees and hedges.

Wooden it be Nice, Ballymena
NI Climbing Frames
A Diamond and Son, Coleraine
Handcrafted Garden Furniture, Ballygowan (also makes raised beds, bird boxes and small sheds)
Eglantine Timber – furniture and railway sleepers.
Recycled Plastic furniture
Eco Plastic Recycling, Downpatrick
Irish Recycled Products
Murray's Recycled Plastic
Furniture made from recycled material - UK
Envirobuild