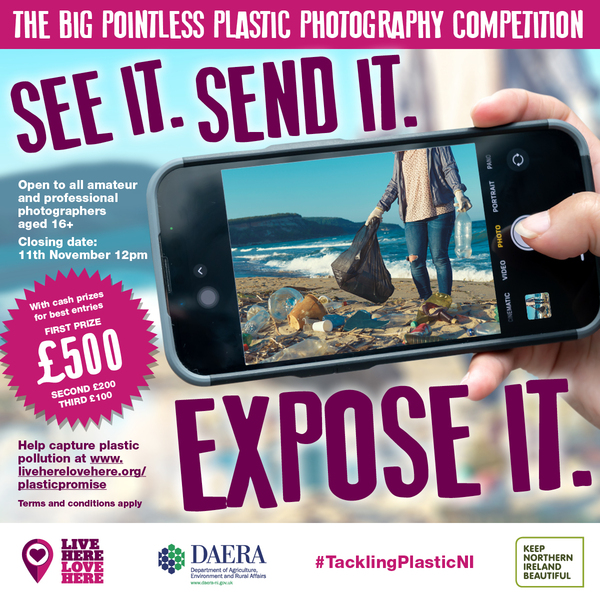 Competition now closed!
The Big Pointless Plastic Photography Competition is your opportunity to take a snapshot of plastic pollution as and when you spot it, whether that it is on our streets, roads, countryside, beaches, parks or rivers.

We know that we have a big problem with plastics, particularly the single use kind. In the Marine Litter Report 2021, it was revealed that last year was the worst on record for local litter pollution and that a staggering 81% of visible rubbish was plastic based.
Now, instead of us presenting you with these facts and figures around the scandal, we want you to show it to us first hand using your best photography skills.
Get involved and put your name in the mix to win one of our three cash prizes!
How to enter
The competition is open to any resident of Northern Ireland who is aged 16 and above.
To ensure that all contestants are as committed to eliminating plastic pollution as Live Here Love Here, you must make or update your Plastic Promise to enter the competition. You will also be asked to provide a short caption for your shot.
Acceptable file formats for submissions are JPEG and PNG. Photos must not exceed 30MB in size.
The competition is now closed for entries. The three winning submissions will be announced in the next few weeks.
Something SUP
You are free to choose your preferred device, orientation and aspect ratio for your photo, but all valid entries must contain at least one item of plastic.
Above all, we are interested in images that present scenes of everyday pollution that arise from our over-reliance on single-use plastics. This could include, for example, shots that capture cigarette butts spoiling an urban zone or plastic bottles and wrappers threatening a coastal location.
Look out for some helpful composition tips on our social media. You can also read the Marine Litter Report 2021 to gain insights into where, and in what form, plastic pollution is happening.
The rules
You are permitted one entry and one photo as part of your submission. However, if you want to change your image or caption before the closing date, you can do so by contacting us. Any suspected attempt of duplicated entry will result in disqualification for all parties involved.
All pictures entered must be taken in Northern Ireland and must not have been a 'winner' in any other photography competition. We also strongly urge you to be respectful of nature, private property and your personal safety at all times while creating your image.
Please note: Live Here Love Here excludes its liability for any loss, damage, injury, cost or expense suffered by you, whether directly or indirectly and howsoever caused, in connection with the competition and use of any prize.
Contact
For any queries relating to The Big Pointless Plastic Photography Competition, please get in touch.